Lessons from Covid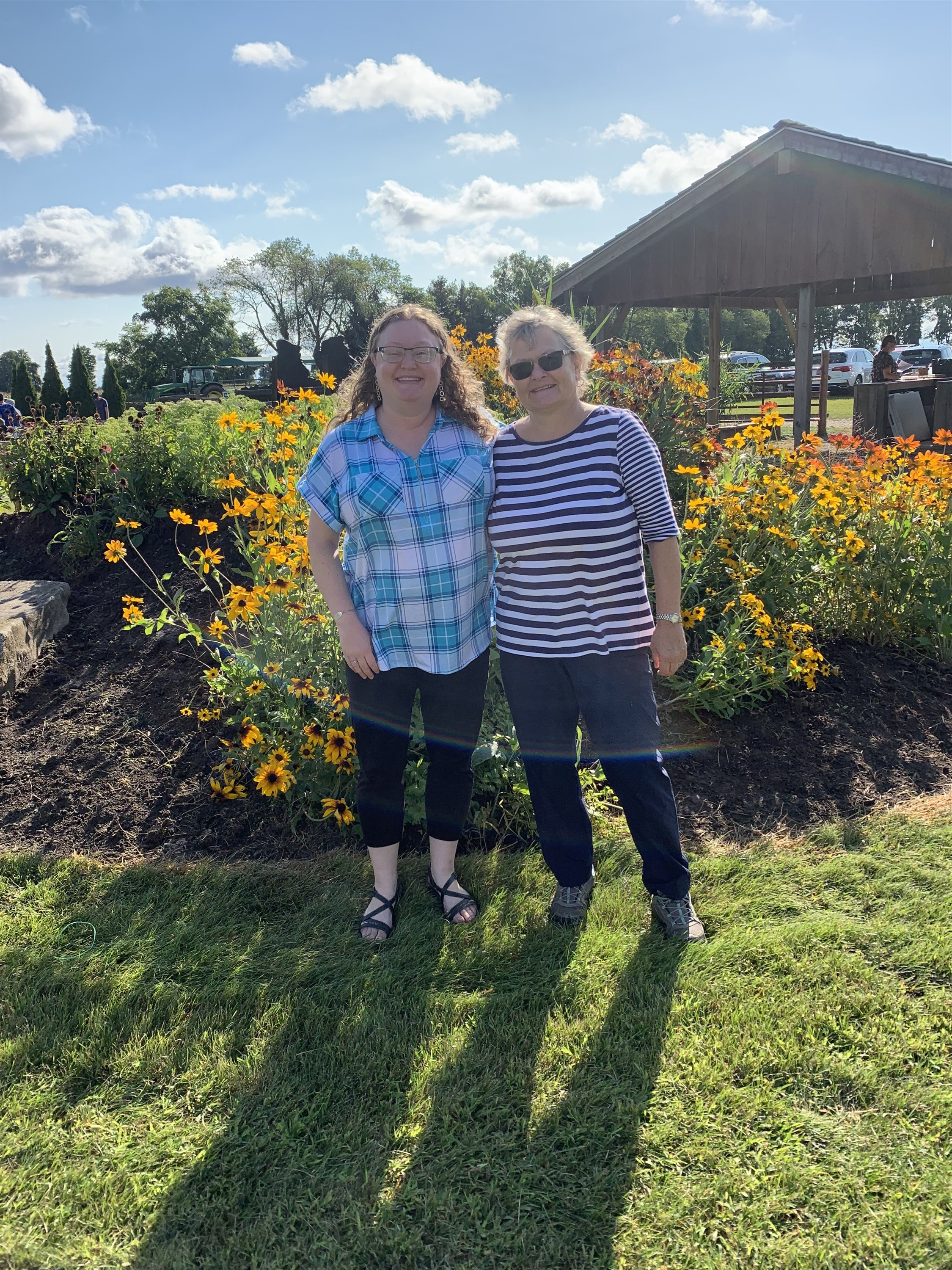 Good morning, my name is Ashley Tindall. I have been invited to share with you about God's faithfulness in the midst of both joy and struggle throughout the past year. I will start by giving you some context about my life. I am a Registered Early Childhood Educator but am taking time off to write a book. I don't consider myself an author but God has given me a story to tell. I am co-writing a book with my Mom about the ups and downs of life after brain injury. She is writing from the perspective of the caregiver and parent and I am sharing the perspective of the survivor. In the summer of 2000 I was in a very serious car accident that has left me with brain injury and low vision among many other medical conditions. I do my best to greet each day with a smile and know that God can use me just as I am.
I have always enjoyed helping others but particularly after the extraordinary amount of help I received following my accident. Helping others brings me joy. The problem is, Covid limited my social interactions which in turn limited my opportunities to help others. At which point God whispered to me "instead of helping others, it's time to help yourself." Well, let's be truthful, that was annoying! When helping others I could keep the focus on them and not worry as much about my own struggles. I won't get in to all the personal details of this journey but I will say that I had some great conversations with God and he reminded me of Second Corinthians 9-10 which says "My grace is sufficient for you, My power is made perfect in weakness.' Therefore I will boast all the more gladly about my weaknesses, so that Christ's power may rest on me. . . For when I am weak, then I am strong".
God is having to continually remind me of this. Following the accident, it felt like I had considerably more areas of weakness in my life. There seemed to be many restrictions and limitations put on my life because of my new medical conditions. For example, as a result of my brain injury and low vision I have high levels of fatigue which means I need to slow down and take life at a more reasonable pace. One of the beautiful ways God met me throughout Covid was that the world had to slow down to my pace. Others felt restricted by the external limitations that were placed on their life; I had the advantage of already experiencing that reality following the accident. For example, growing up I was a competitive athlete. That identity was taken from me as my medical restrictions prevented me from playing competitive sports. I could no longer find my identity in my abilities. It took years and it was an arduous journey but I have learned to find my identity and strength in God. Many people have had to adjust their identity throughout Covid as their career may have changed or their ability to take part in certain activities has been restricted.
The world is fragile and ever changing but God is the same today, tomorrow and forever. I encourage you to find your identity in the Lord. Let Him be your rock, your strength and your foundation. In a world that continues to change, let Him be your Alpha and Omega today and forever.
[ Ashley shared this speech with her church September 2021 ]
Unmasking Brain Injury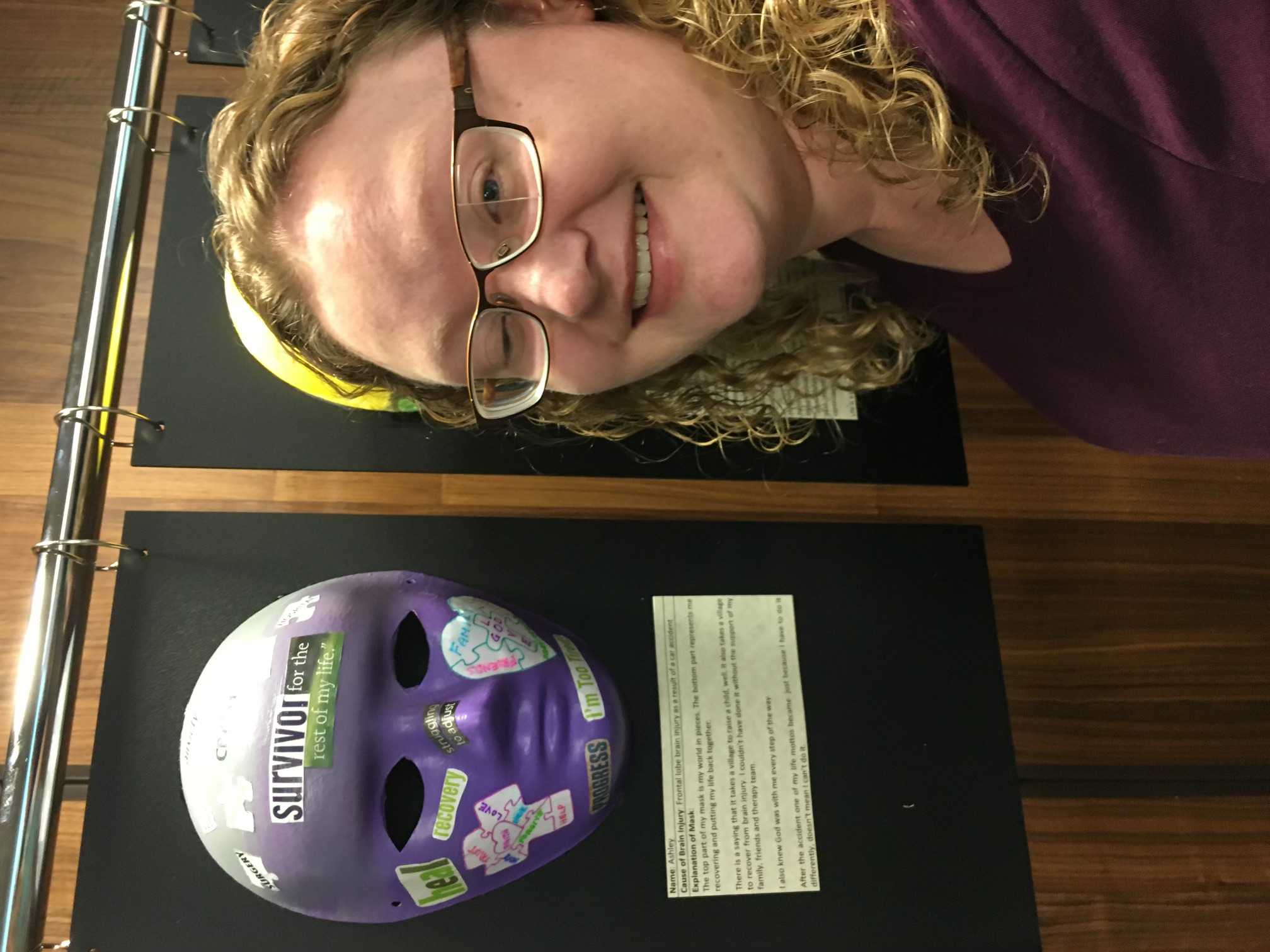 Brain injury is often referred to as an invisible disability. Unmasking Brain Injury is an international movement that aims at helping to make brain injury more visible. Survivors were given a mask and encouraged to use artistic means to represent their personal journey.
The top part of my mask represents my life in pieces which is how it felt following the motor vehicle collision I was in. The lower part of my mask represents my recovery and putting my life back together. Brain injury will always be a part of who I am but helping my friends and family to understand my journey makes me feel seen and validated for who I am.
I am a survivor.

Unmasking Brain Injury is an international movement and, through the coordination of the Ontario Brain Injury Association (OBIA), Ontario became the first province in Canada to participate. In 2018, more than 1200 masks were distributed to brain injury survivors from 26 participating brain injury associations/partners across the province. Additional masks were sent out in 2019 and 2020, bringing the total number to more than 2200 masks created in Ontario.
To learn more about Unmasking Brain Injury and to see other masks, visit https://obia.ca/get-involved/unmasking-brain-injury/
The Brain Injury Association of Waterloo-Wellington (BIAWW) is a charitable organization devoted to providing advocacy, education, connections, and empowerment for individuals with acquired brain injury and their families in the Waterloo-Wellington region. They are a fantastic resource and have had such a positive impact on the brain injury community. To learn more about the BIAWW please go to biaww.org